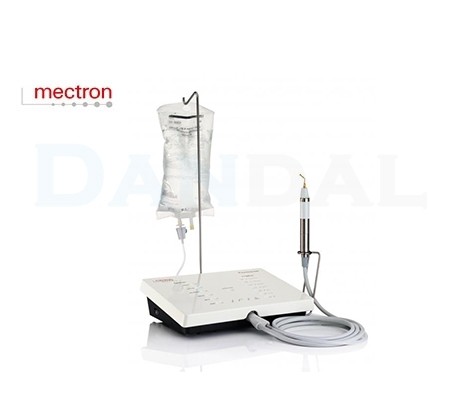 View larger
Mectron - PIEZOSURGERY White
New
This product is no longer in stock
Warning: Last items in stock!
Availability date:
لطفا در صورت نیاز به اطلاع رسانی جهت موجود شدن این کالا، ابتدا وارد حساب کاربری شوید سپس در همین صفحه گزینه
"اطلاع بده"
را انتخاب نمایید
Buying this product you will collect
0.05 points
with our loyalty program.
PIEZOSURGERY white is your perfect introduction into bone surgery with PIEZOSURGERY: The PIEZOSURGERY white offers the ultimate in treatment safety, materials especially selected for ease in cleaning, disinfection and sterilization, and cost-effective standard parts for greatest economy.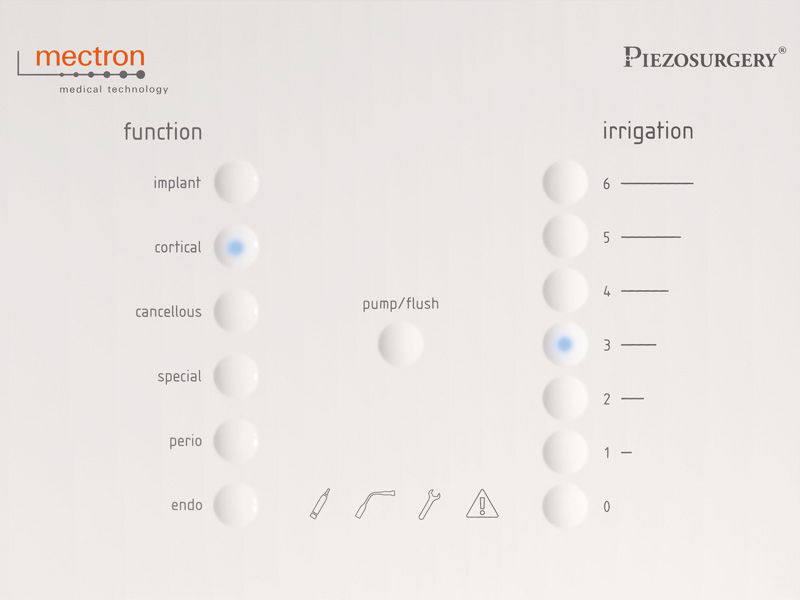 Touch keyboard
Easy to clean
Irrigation and power rate chosen by the touch of a finger
Sterile Protection Foils
The exclusive glass display of the PIEZOSURGERY touch can be protected with a dedicated, individually packed, sterile transparent foil. Thanks to these invisible shields, no dirt, scratches or fingerprints will affect your glass keyboard.
Handpiece with LED
Swivel-type LED-light can be directed to the insert tip
Choice between automatic, and permanent light or switched off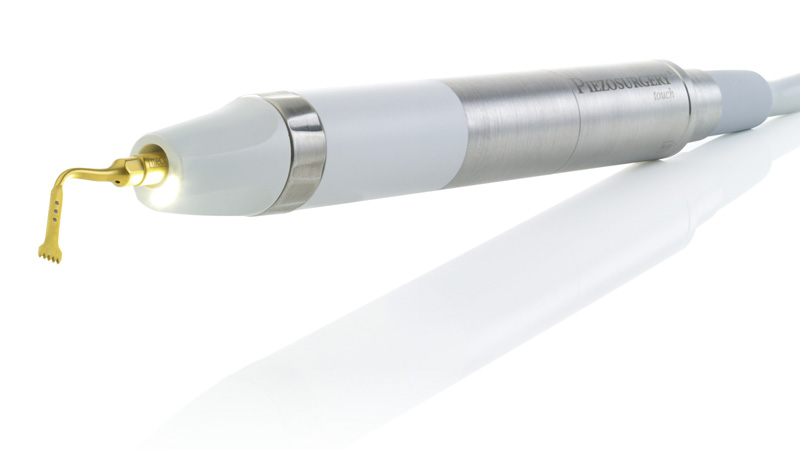 Unique Handpiece System
Sterilizable, all-in-one LED-handpiece and handpiece cord system
Sterilizable, internal irrigation line, no disposables needed
New handpiece cord coupling protected against mishandling
Feedback System
Constant and optimal tuning of insert movement
Automatically detects if more or less power is necessary and adjusts it accordingly
User intervention is simplified to the push of the foot pedal
APC (Automatic Protection Control)
Recognizes deviations from standard functioning automatically
Stops power and liquid in less than 0,1 seconds
Shows cause of the interruption on the keyboard
Related Treatments:
sinus lift technique – crestal approach
sinus lift technique – lateral approach
implant site preparation
mini dental implant site preparation
extractions
explantation
ridge expansion
corticotomy techniques
bone block grafting
bone chip grafting
bone modeling
endodontics
osteotomy close to nerves
periodontal surgery
implant cleaning
Equipment set:
1 PIEZOSURGERY touch unit
1 LED-handpiece, complete with cord
1 torque wrench K8
1 suitcase
Basic Kit
| | |
| --- | --- |
| Company | Mectron |
| Country | Italy |
| Weight | 3200gr |
| Height | Width | Depth | 300mm | 250mm | 95mm |
| Foot Control | Corded - On / Off |
| Display Screen | Touchable |
| Vibration rpm | 24-36KHz |
| Application | Endo - Perio - Special - Cancellous - Cortical - Implant |
| Power | AC100-240V |
| Type of Technology | Optic |
| Optic Adjustment | No |
| Handpiece | Piezo Handpiece + 5 Tips |
| Irrigation Capacity | For Endo / Perio: 0-6 (75ml/min) | For Special / Cancellous / Cortical / Implant: 1-6 |
No customer reviews for the moment.
NO registration required!
If the question you have has not yet been answered here, use the form below to ask something about this addon.