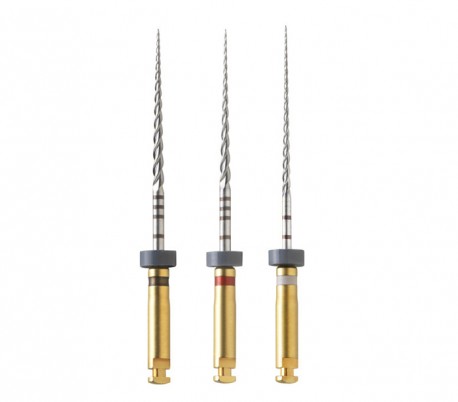 View larger
Thomas - NiTiShaper Rotary File
- Quantity per pack: 3 units (Blister non sterile.)
- Rotation speed: 300 to 500rpm
- Torque: 3 to 4Ncm
New
This product is no longer in stock
Warning: Last items in stock!
Availability date:
لطفا در صورت نیاز به اطلاع رسانی جهت موجود شدن این کالا، ابتدا وارد حساب کاربری شوید سپس در همین صفحه گزینه
"اطلاع بده"
را انتخاب نمایید
Buying this product you will collect
0 points
with our loyalty program.
NiTiShaper is a new rotary nickel-titanium system developed by THOMAS. The successive use of 3 instruments T1, T2 and T3, allows a comfortable and fast shaping of the root canal.
Thanks to the intelligent design of the blades, the work is progressive and equally distributed between the 3 instruments.
NiTiShaper is a kit of 3 endodontic instruments, supplied with a silicone stopper on the blade.
- The blades of the instruments are made of a nickel-titanium alloy.
- The shank of 12mm is manufactured according to the ISO standard 1797 (diameter 2.35).
- Color coding
- Depth marks
- Non cutting tip
- length: 25mm
CHARACTERISTICS
- Works in continuous rotation
- 3 instruments to shape the root canal
- Shape memory
- Delivered in blister non sterile
- Instructions for use are identical for the 3 instruments
+ ADVANTAGES:
- Comfortable and safe: progressive work
- Respect of the root canal anatomy
- No screwing-in effect
- Only 3 files
- Easy to use
- Breakage resistance
| | |
| --- | --- |
| Company | Thomas |
| Country | France |
| File Number | 18 | 20 | 23 |
| Number in the pack | 3 |
| Taper | 0.04 | 0.06 |
| Length | 25 |
| RPM range | Max. 500rpm |
| Torque range | Max. 4Ncm |
| Type | Sequencing File |
NO registration required!
1 Question(s) answered
If the question you have has not yet been answered here, use the form below to ask something about this addon.
Asked by Mostafa Mehraban
on 07/14/2019

ضمن عرض سلام و خسته نباشيد از هر فايل ميتوان براي چند كانال استفدا نمود؟ و اينكه براي كانال هاي كرو دار مناسب باشد يا خير؟ سپاس

Answer:
سلام. تعداد دفعات قابل استفاده بستگی به شرایط کیس می باشد و عموما بین 4 تا 7 دفعه قابل استفاده می باشند. برای کانال های کرودار نیز قابل استفاده بوده اما توصیه میشود در صورت مشاهده احتمال بالای ریسک از فایل های اختصاصی برای کانال های کرودار استفاده نمائید.