+982175203000
FKG - XP-Endo Shaper File
تومان130,000
Out-of-Stock
XP-Endo Shaper
T=0.04 - L=25mm - #30
Recommended speed: 800rpm
Torque: 1Ncm

3D canal shaping
The need for 3D canal cleaning and the emphasis placed on less invasive treatments have increased in recent years. FKG is meeting this demand with the creation and release of the XP-endo Shaper.
The MaxWire and Booster Tip technologies combine to make the XP-endo Shaper a "One File Shaper".
It has the ability to start shaping at ISO diameter 15 and to achieve ISO diameter 30,  but also to increase the taper from .01 to at least .04. It allows to reach a canal shaping of minimum 30/.04 and this with only one instrument.
The XP-endo Shaper is the instrument of choice for the treatment of the vast majority of canals.
Ø ISO: 30
Taper: min. 4%
Lengths: 25mm
Recommended speed: 800rpm
Torque: 1Ncm
Delivered in a sterile blister. Single use
+ Features & Benefits
• Superelasticity and expansion capacity
• Remarkable cyclic fatigue resistance
• Excellent debris removal
• Adaptation to canals irregularities
• A gentle, non-agressive and conservative treatment
Booster Tip
Six cutting edges for optimal guidance. Starts shaping at minimum ISO diameter 15 to achieve a final diameter of ISO 30 with only one instrument.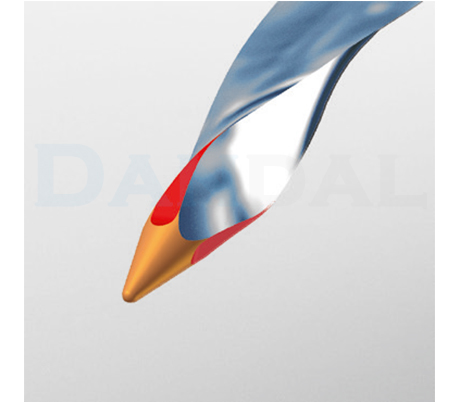 MaxWire Technology
Superelasticity, extreme flexibility and agility of the instrument. Shape memory principles enabling the instrument to take on a predefined shape at 35°C. Ability to expand within the root canal.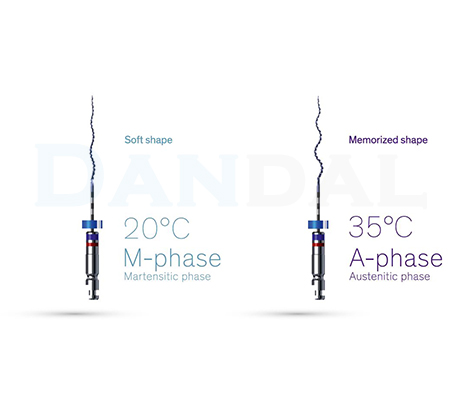 Minimal torque
The torque is a highly important parameter to take into consideration. Higher torque means the instrument is subject to greater levels of stress, thereby increasing the risk of fracture.
The graph below shows the result of a test performed on a plastic block demonstrating the average torque generated by three instruments during canal treatment. The test was performed on a length of 14 mm, along the entire canal.
 
     
Comparison of the torque generated by the instruments during a
test on a plastic block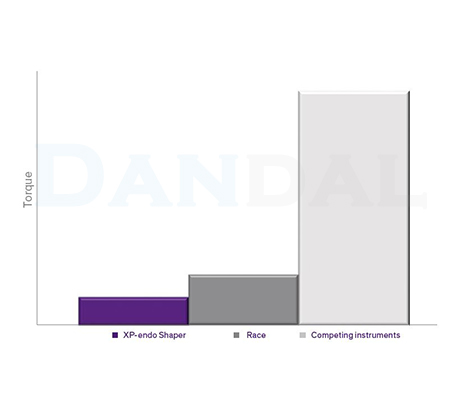 The XP-endo Shaper generates an average torque 47% lower than the Race instrument, and 88% lower than the competitor instruments.
Due to its characteristics, the XP-endo Shaper enables the stress applied on the instrument and the canal walls to be restricted. This allows it to limit instrument breakage and micro-cracks and to significantly reduce the stress applied on the tooth during treatment.
Comparison of a 16-mm section from the tip of a conventional instrument and of the XP-endo Shaper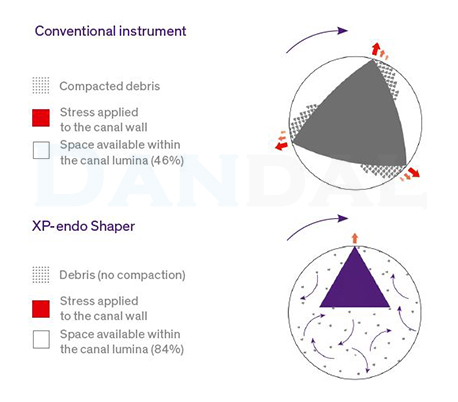 With a conventional instrument of 30/.04, 16 mm from the working length within the canal, just 46% of the space is available within the canal lumina, compared to 84% when the XP-endo Shaper is used.
This gained space enables a large amount of debris to be removed, and prevents it from being compacted into canal irregularities and extruded beyond the apex.
Product Details

Data sheet

Company

FKG

Country

Switzerland

File Number

30

Number Of Files In Pakage

1

بیشتر
Customers who bought this product also bought:
Related articles on blog
No related article on blog