+982175203000
FKG - BioRaCe File
تومان250,000
Out-of-Stock
Unit motors, to reach the minimum recommended speed of 600 rpm:
Air motors 20,000 rpm: use a contra angle 32:1 reducer
Electric motors 40,000 rpm: use a contra angle 64:1, 70:1 reducer
Endodontic motors, corded or cordless like the Rooter:
Set the speed to 600-1000 rpm and the torque to 0.5 to 1.5 Ncm
BioRace Sequence
BioRace Basic Set is a highly reliable sequence of six instruments. 
In the majority of cases, it has been found that, to achieve adequate elimination of bacteria from the root canal, the apical third of the canal should be treated with the minimum given sizes, ISO 35 or 40. 
The BioRace sequence has been specially designed to achieve the required apical size without the need for additional steps or files.
By using the BioRace system, the biological aim of the root canal treatment can be attained without compromising efficiency.
6 instruments: BR0 25/.08, BR1 15/.05, BR2 25/.04, BR3 25/.06, BR4 35 /.04 and BR5 40/.04
Lengths: 21, 25, 31mm
Recommended speed: 600rpm
Torque: 1Ncm
Protocol:
1. K-file #15 for WL measurement
2. BR0 white 3-4mm coronal
3. K-file #20 for measurement confirmation
4. BR1 yellow to WL
5. K-file #20 for measurement confirmation
6. BR2 red. To WL
7. K-file #20 for measurement confirmation
8. BR3. Blue. To WL
9. K-file #20 for measurement confirmation
10. BR4. Green. To WL
11. K-file #20 for measurement confirmation
12. BR5. Black to WL (For straight canals)
13. K-file #35 for shaping check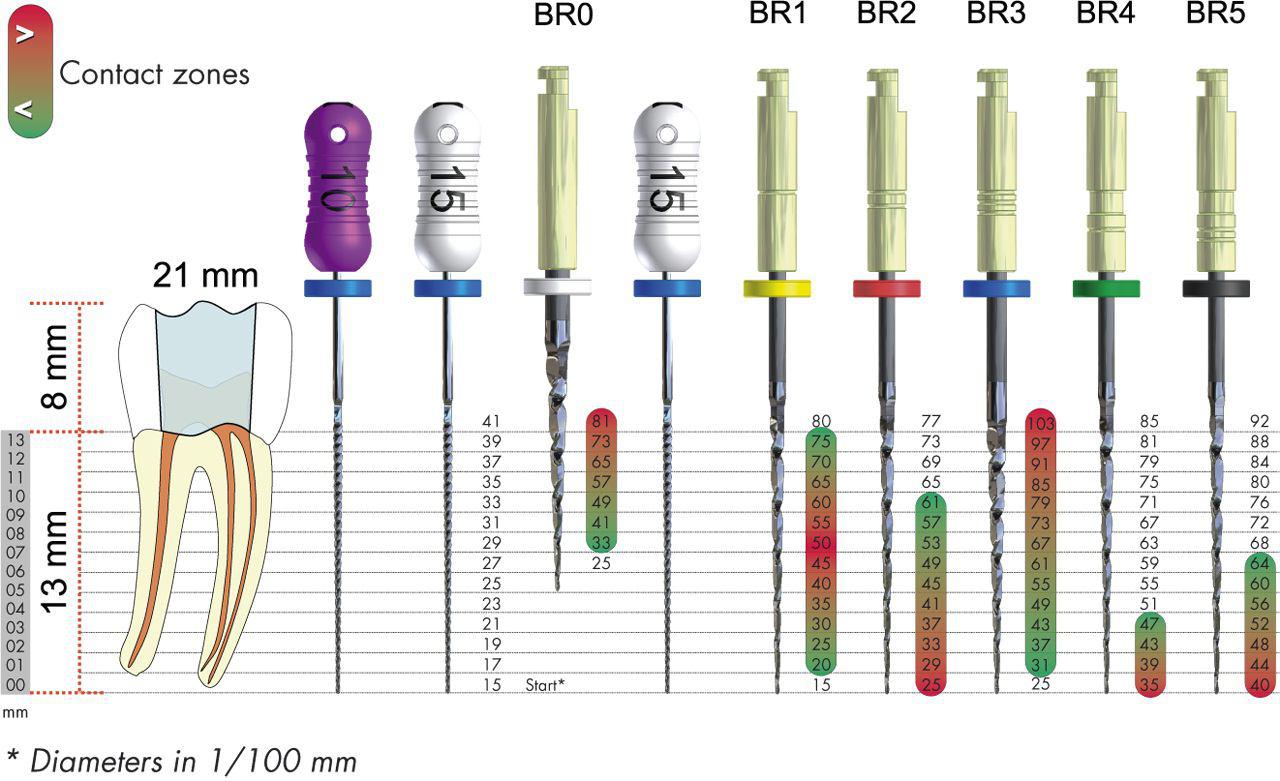 Complementary BioRace Extended Set
In addition, BioRace Extended Set includes two instruments for canals with severe curvature and two for large canals:
a. Canals with severe apical curvature
2 instruments: BR4C 35/.02 and BR5C 40/.02
Lengths: 21, 25, 31 mm
Recommended speed: 600rpm
Torque: 1Ncm
b. Large canals
2 instruments: BR6 50/.04 and BR7 60/.02
Lengths: 21, 25, 31mm
Recommended speed: 600rpm
Torque: 1Ncm
Product Details

Data sheet

Company

FKG

Country

Switzerland

File Number

15 to 60

Number Of Files In Pakage

6 | 4

بیشتر
Customers who bought this product also bought: