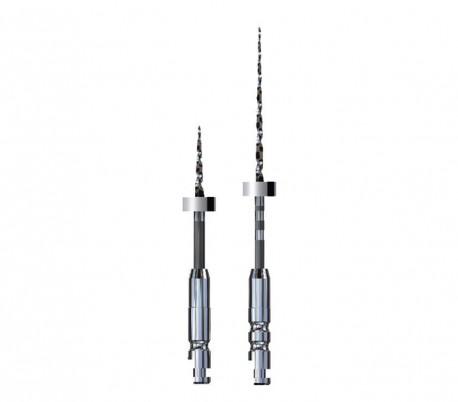 View larger
FKG - D-RaCe File
New
Warning: Last items in stock!
Availability date:
Buying this product you will collect
0 points
with our loyalty program.
D-Race Sequence
In some circumstances, the canal must be retreated. As much of the root filling material as possible must therefor be removed before retreatment itself can begin.
D-Race instruments are used to remove most of the old root-filling material, such as Gutta-Percha, obturators or resin-based material, from the canals.
The D-Race set consists of two NiTi files – DR1 and DR2. The first instrument, DR1, has an active tip for handling the root-filling material and is used in the first millimetres of the coronal and straight part of the canal. Once access is cleared with the DR1, the second instrument, DR2, is used to reach the WL. As this work puts a lot of strain on the instrument, it is intended for single use. The final shape is achieved using the BT-Race, iRace or BioRace sequences.
2 instruments: DR1 30/.10, DR2 25/.04
Lengths: DR1 15mm, DR2 25mm
Speed: DR1 1000rpm, DR2 600rpm
Torque: 1.5Ncm
DR2: single use
| | |
| --- | --- |
| Company | FKG |
| Country | Switzerland |
| File Number | 25 | 30 |
| Number Of Files In Pakage | 6 |
| Taper | 0.04 | 0.10 |
| Length | 25 | 25 |
| RPM range | DR1 1000 | DR2 600rpm |
| Torque range | DR1 1.5 | DR2 1Ncm |
| Type | Retreatment |
No customer reviews for the moment.
NO registration required!
If the question you have has not yet been answered here, use the form below to ask something about this addon.