88dent - Pocket Laser (Diode) - Dandal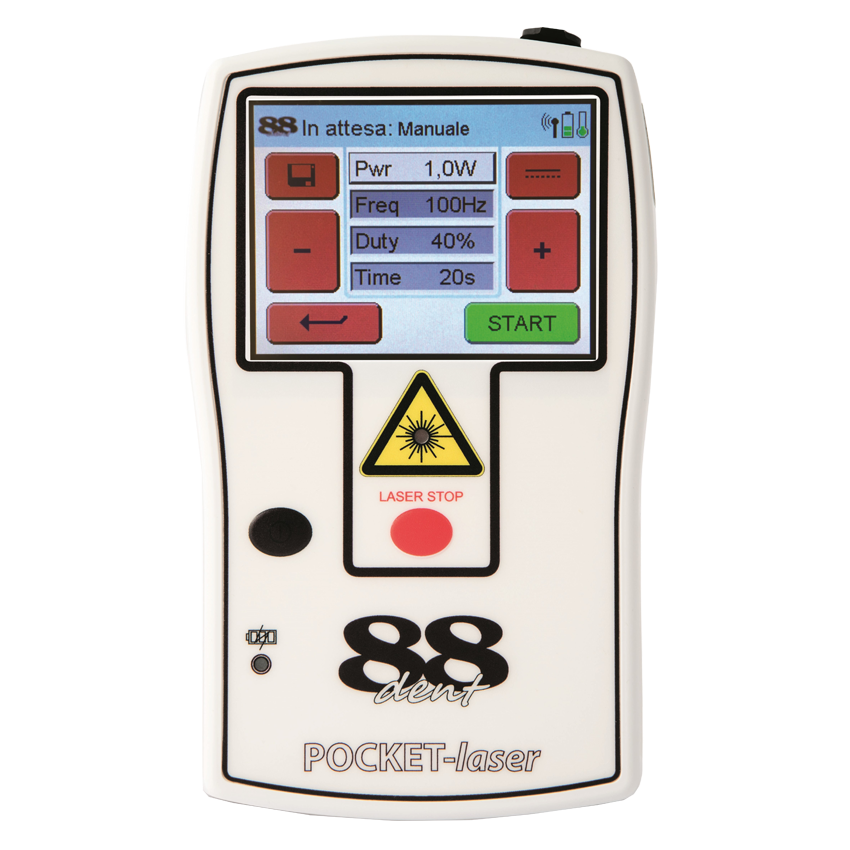 Pocket Laser is a state-of-the-art diode laser. By virtue of its technical and structural features not only is this laser perfect to be used by beginners but also by the expert dentist.

POCKET LASER: with just one instrument you can:
DESENSITIZE
CUT
EXCISE
DISINFECT
COAGULATE
VAPORIZE
BIOSTIMULATE BLEACH
Features
1

Limited dimensions and extreme power

Owing to its 6 watt power, Pocket Laser is one of the most powerful devices among small sized lasers. Due to its light weight and small dimension, this laser is particularly easy to carry. The wireless pedal, which is outfitted with a long-life battery, enables hands free usage reducing inconvenient floor cables. Pocket Laser is suitable in every clinical application as it is furnished with optical fibers available in 0,4 mm, 0,3 mm and 0,2 mm diameter.

2

Touch Screen and maximum hygiene control

By virtue of his versatility, 

Pocket Laser

 allows the use of a variety of 

single-use tips

 of different in shape and dimensions.


Pocket laser

 is equipped with a high precision touch screen, which can be covered with a protective sterile single-use adhesive film which guarantees maximum hygiene control.
The contact handpiece is outfitted with a 

Luer Lock

 universal attachment which can be autoclaved in order to guarantee maximum versatility and safety

3

Wider use thanks to variety of programs and accessories

Pocket Laser

 is the ideal device for those who are new to the field of the diode laser: 

a large number of accessories

, implementations and pre-set clinical programs are available. The usage of this laser is equally advisable for the expert dentist who can easily 

personalize

 the pre-existing programs. Furthermore, 

Pocket laser

 can also be used for 

bio stimulation

 and 

Low Level Laser Therapy

.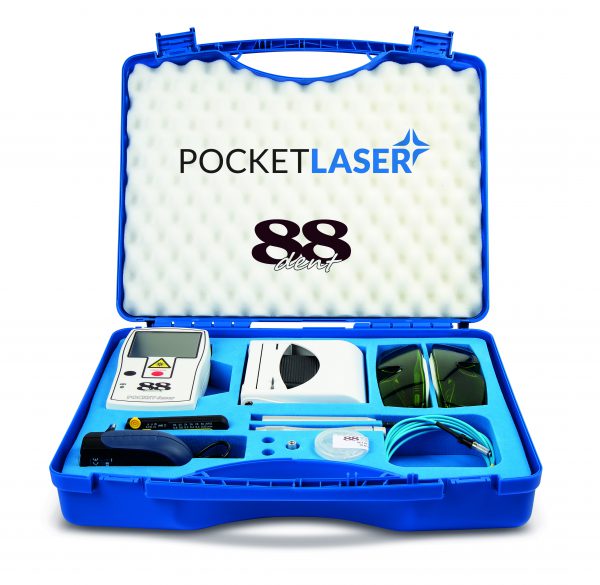 Pocket Laser advantages and benefits
1

Safety and visual field improvement

Owing to the high hemostasis control achievable, 

Pocket Laser

 enables a remarkable increase in the 

visibility of the operative

 field ensuring more safety. 

Pocket Laser

 can be used on those who have a 

pace-maker

 or an implantable 

cardioverter-defibrillator (ICD)**

 and the clinical performance of the diode laser is well proven by a great number of clinical trials

2

Proved clinical effectiveness

Near Infrared lasers (NIR) have been successfully and safely used in different branches of medicine for almost twenty years. The 

minimal invasiveness

 of the laser, which causes minimum pain and swelling, makes the laser favourable in comparison with the traditional procedures since it guarantee more patient compliance.

3

Less blade usage and fast scar-less healing

Almost every operation in oral surgery can be performed with diode laser assuring more 

comfort

 and 

safety

. By reducing the blade usage it is possible to 

avoid

 giving 

suture

 to control the hemostasis. Promoted healing process and biostimulation makes it possible to obtain better wound healing of the soft tissues with minimum or absent scar even in case of secondary intention healing.

4

Less usage of local anaesthetic

The delicate and accurate action of 

Pocket Laser

 allow the 

decrease

 and, at times, 

the absence of local anaesthetic

. The hemostatic properties, which characterize diode laser, permit less use of vasoconstrictors and in some cases its use is not even necessary. Furthermore, several trials prove the 

antibacterial properties

 associated with diode laser, which not only are particularly useful in oral surgery but also during the periodontal, 

peri-implant and endodontic therapy

.

REFERENCES:
J Lasers Med Sci. 2013 Autumn; 4(4): 206–211..PMCID: PMC4282004 .Diode Laser Application in Soft Tissue Oral Surgery .  Ehsan Azma 1 and Nassimeh Safavi 2
J Clin Laser Med Surg. 1999 Oct;17(5):193-7. Diode laser (980 nm) in oral and maxillofacial surgical procedures: clinical observations based on clinical applications.. Romanos G1, Nentwig GH.
J Periodontol. 1993 Jul;64(7):589-602..Current status of lasers in soft tissue dental surgery..Pick RM1, Colvard MD.
J Lasers Med Sci. 2016 Spring;7(2):99-104. doi: 10.15171/jlms.2016.17. Epub 2016 Mar 27. Comparison of the Antibacterial Effect of 810 nm Diode Laser and Photodynamic Therapy in Reducing the Microbial Flora of Root Canal in Endodontic Retreatment in Patients With Periradicular Lesions.Asnaashari M1, Godiny M2, Azari-Marhabi S3, Tabatabaei FS4, Barati M5.
Photodiagnosis Photodyn Ther. 2016 Sep;15:28-33. doi: 10.1016/j.pdpdt.2016.04.003. Epub 2016 Apr 27.Comparison of antibacterial effect of photodynamic therapy using indocyanine green (Emundo) with 2% metronidazole and 2% chlorhexidine gel on Porphyromonas gingivalis (an in-vitro study).Fekrazad R1, Karamifar K2, Bahador A3.
Iran Endod J. 2016 Winter;11(1):8-12. doi: 10.7508/iej.2016.01.002. Epub 2015 Dec 24. Antibacterial Activity of Diode Laser and Sodium Hypochlorite in Enterococcus Faecalis-Contaminated Root Canals. Sohrabi K1, Sooratgar A1, Zolfagharnasab K2, Kharazifard MJ3, Afkhami F1.
Evaluation of the effects of the low-level laser therapy on swelling, pain, and trismus after removal of impacted lower third molar Hilal AlanEmail author, Ümit Yolcu, Mahmut Koparal, Cem Özgür, Seyit Ahmet Öztürk and Sıddık Malkoç Head & Face Medicine201612:25 DOI: 10.1186/s13005-016-0121-1©  The Author(s). 2016 Received: 12 February 2016Accepted: 20 July 2016Published: 26 July 2016
Lasers Surg Med. 2004;35(4):254-8. Dental bleaching efficacy with diode laser and LED irradiation: an in vitro study. Wetter NU1, Barroso MC, Pelino JE.
Int J Med Sci. 2009 Nov 24;6(6):358-64. 980 nm diode lasers in oral and facial practice: current state of the science and art. Desiate A1, Cantore S, Tullo D, Profeta G, Grassi FR, Ballini A.
Systematic Review and Meta-Analysis on the Nonsurgical Treatment of Chronic Periodontitis by Scaling and Root Planing with or without Adjuncts .July 2015. ADA Center for evidence based dentistry
American Journal of Oral Medicine andRadiology DIODE LASER AS AN ESTABLISHED TOOL IN PERIODONTICS A REVIEW Kamal Sagar, Arundeep Kaur, Pooja Patel, Vijay Kumar, Shweta Narang andParveen Ranga
A systematic review of low level laser therapy with location-specific doses for pain from chronic joint disorders . Jan M Bjordal  1,  *,  jmb@hib.no,  Christian Couppé  2,  Roberta T Chow  3,  Jan Tunér  4,  Elisabeth Anne Ljunggren  1 Australian Journal of Physiotherapy 2003 Vol. 49
Leave a comment about this product