Biolase Laser - Epic X Diode Laser - Dandal
Biolase - Epic X Soft Tissue Dental Laser
Out-of-Stock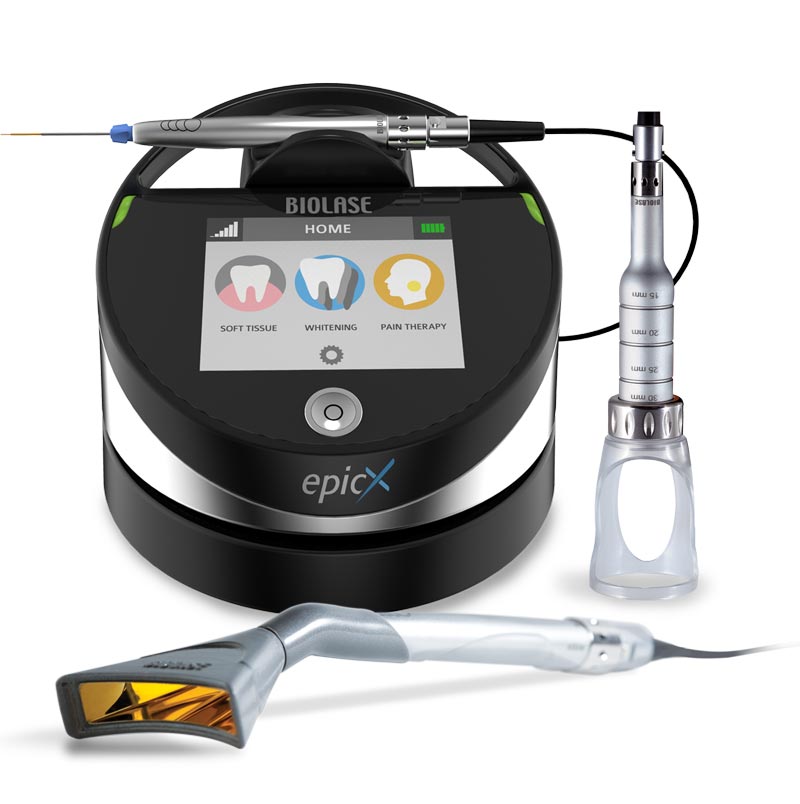 Epic X Diode Laser
Introducing EPIC X, the diode laser solution that delights your patients, faster. EPIC X features innovations such as pre-initiated tips, laser-assisted whitening, and temporary relief of minor pain, all from a single diode laser solution.
Guaranteed Reliability and Support, Faster
– Use your EPIC X confidently with comprehensive support and assistance from BIOLASE.
– Replacement EPIC X within 24 hours should yours need service.
– Industry-best two-year warranty.
– Designed and manufactured in the USA.
Get to Treatment, Faster
Choose from standard diode laser tips or our exclusive pre-initiated tips to begin laser therapy faster than ever.
  
Create Bright Smiles, Faster
EPIC X offers the fastest in-office whitening procedure available today. Faster than ever, with dramatic shade change in 20 minutes of chair time.
   
Provide Pain Relief, Faster
EPIC X is cleared for temporary relief of minor pain, including pain associated with TMJ or other thermomandibular disorders.
Plus, EPIC X can energize your hygiene program quickly, with a number of easy-to-learn hygiene procedures at your fingertips.
EPIC X Clinical Results
– Gingival Troughing
– Aphthous Ulcers
– Frenectomy
– Gingivectomy
– Exposure of Unerupted Teeth
– Excision for Biopsy
– Implant Recovery
– and more!
Leave a comment about this product