+982175203000
Cavex - Bite&White ABC Home Whitening kit
تومان500,000
Out-of-Stock

Cavex B&W ABC Masterkit
Cavex has developed the ABC-Whitening-System accumulated in the Cavex Bite&White ABC Master kit where the AB&C stand for "Activate," "Brighten," and "Condition." Following these 3 simple steps, Cavex ensures a highly effective, safe and above all – a pain free whitening treatment. 
   
   
How does it work?
Activation is the first step and is done with Cavex Bite&White StainLess. This refreshing paste has two functions. It has an exceptional ability to remove surface stains and plaque allowing the whitening product to be in direct contact with the enamel surface. Cavex Bite&White StainLess also has the amazing ability to raise the pH of the mouth whereby creating the perfect environment for a whitening treatment to work best. 
   
Brightening is done by Cavex Bite&White, a proven, effective and above all safe whitening gel with 16% carbamide peroxide (equal to 6% hydrogen peroxide). The addition of sodium fluoride helps to reinforce the enamel while potassium nitrate helps avoid any potential sensitivity. Cavex Bite&White only needs 1 hour treatments to be effective -- there is no necessity to keep it in the mouth longer. This avoids enamel from drying out, which can also cause sensitivity. 
     
Conditioning is done with Cavex Bite&White ExSense. Cavex Bite&White ExSense offers fast and long-lasting relief from sensitive teeth thanks to a revolutionary blend of hydroxyapatite and a 'hydro-dispersing gel.' The unique properties of the hydro-dispersing gel ensures accelerated dispersion that helps boost the hydroxyapatite penetration. Thanks to the synergetic composition of Cavex Bite&White ExSense, the hydroxyapatite penetrates deep into the tubules and micro-cracks in the enamel. This means that the areas causing sensitivity are completely sealed off, while at the same time, a process of crystallization helps to restore micro-hardness and accelerates the re-mineralization process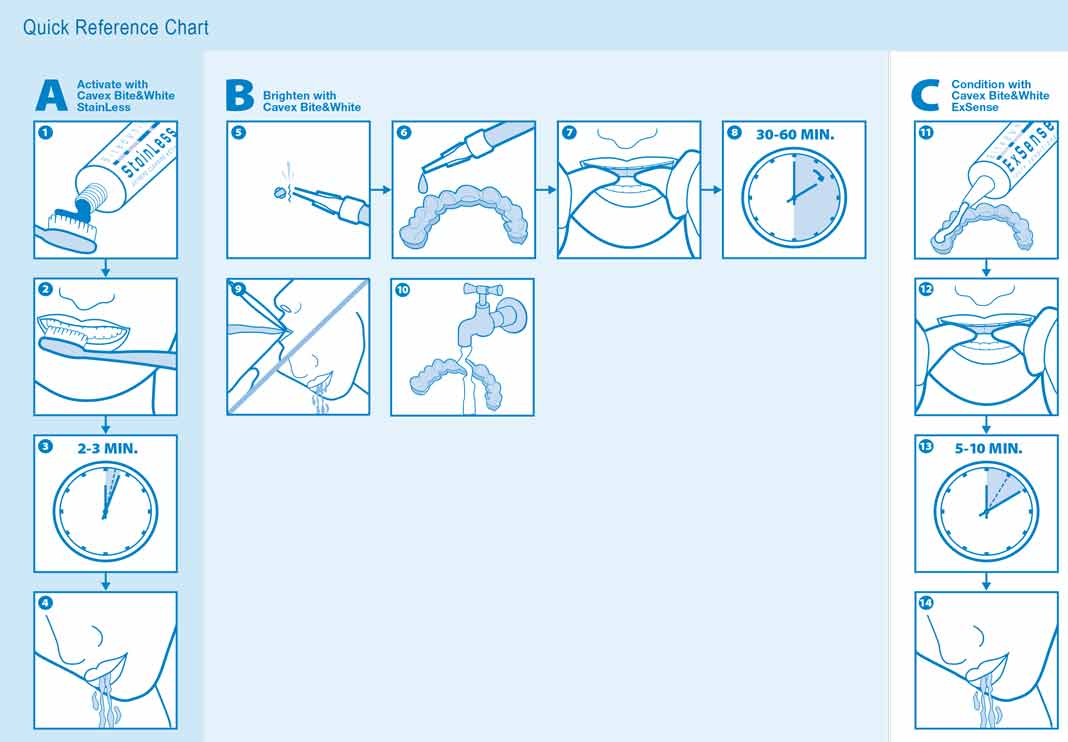 Product Details

Data sheet

Company

Cavex

Country

India

Type

Home

Function

Chemical

بیشتر
Reviews
No customer reviews for the moment.
Customers who bought this product also bought: