Delma - Non-optic 4 hole Handpiece PAR-4HEX-B - Dandal
Morita - Non-optic 4 hole Turbine - TwinPower Series
Out-of-Stock
Model: PAR-4HEX-B
   
The TwinPower Turbine Basic model offers several features of the original product line, above and beyond those in its class. It offers the same cutting efficiency as the TwinPower Turbine standard head, up to 22 watts of power.
Other common features include double-impeller rotor design, ceramic bearings, zero drawback in the air line, and rapid braking technology. As a more economical option, the Basic features a chrome body, 4-hole connection, no fiber optics.
Superior cutting power with unique, double-impeller technology
Up to 22 watts of power
Zero drawback in the air line for excellent contamination control
Safe, rapid braking within 2 seconds
Lightweight: 45g 
Head diameter: 10.5 mm / Head height: 13.2 mm
Quiet operation
Ceramic bearings
Push button chuck
Fixed, 4-hole connection
Chrome body
Features:
Unique double-impeller technology
The TwinPower Turbine product line features the world's only "twin turbines." This unique design delivers superior cutting power even under high load conditions. Air, which is delivered from three drive air nozzles, powers the primary impeller. The exhaust air is directed through multiple fixed fins to power the second impeller. The operational result is far greater power, control, and precision.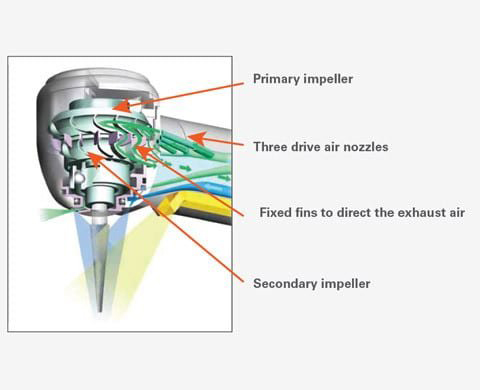 TwinPower Rotor
TwinPower's double-impeller technology features 36 impeller blades. Three drive air nozzles power the blades. Even when the blade angle changes, the drive air continues to be captured by multiple blades, generating superior power and constant torque, thus creating no vibration.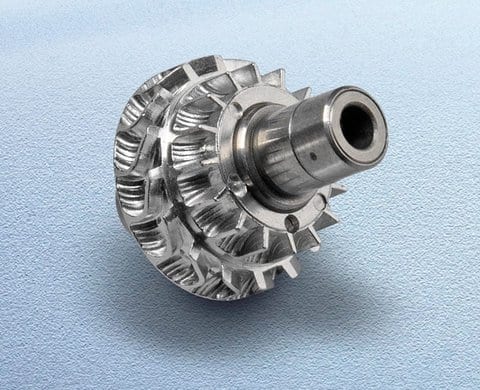 Quick-stop system
Rapid braking poses a particular challenge for ball bearing high speed handpieces. TwinPower's unique rubber brake ring, in its quick stop system, rapidly stops the turbine within 2 seconds - allowing for safer and more efficient preparations. During rotation, the uniquely designed rubber brake ring is pulled away from the turbine axis. During braking, the rubber brake ring rubs against the turbine axis, stopping it significantly faster – safer for both operator and patient.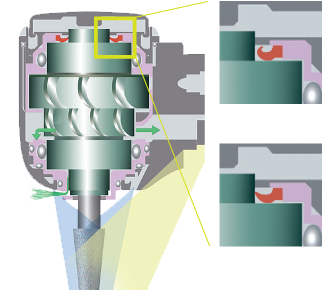 Zero suck-back effect
The zero suck-back effect promotes optimal hygiene:
The drive air flows into an anti-suck back diffuser (ASBD) that is located inside the impeller capsule. The ABSD builds up air pressure thanks to the centrifugal force engendered by rotation.
The rotation and centrifugal force enable the air to flow into the ASBD, where it remains compressed – even after the drive air ceases to flow.
The compressed air in the ASBD is expelled on the lower side of the head.
The exhaust air is also expelled by the impeller on the lower side of the head, via the ASBD.
The air pressure that builds up in the ASBD prevents pressure loss in the head, thus completely eliminating the suck-back effect.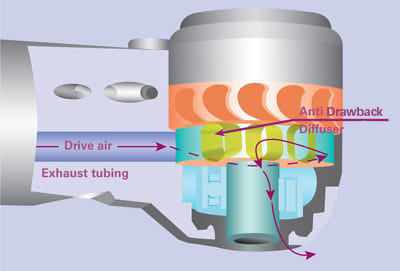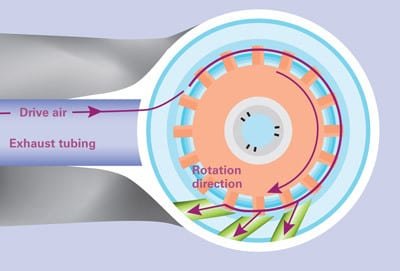 Push-button clamping system
The easy to handle and highly precise metal clamping system ensures that preparation instruments remain in place. At the same time, the push-button clamping system has been designed and endurance tested for a long service life.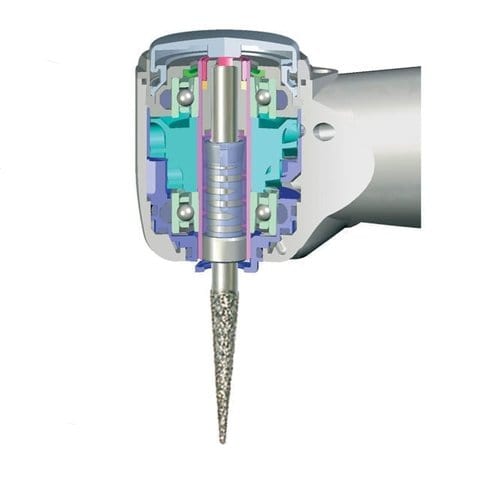 Leave a comment about this product