+982175203000
Reliability first of all
To be essential is not easy when the objective is uncompromising reliability and an image that matches the professionalism of the dental cabinet. The new T5 MASTERpresents high-quality materials and components combined with the attention to detail that is typical of any other VITALIunit, offering the perfect combination between functionality, robustness, security and comfort of the patient.
Rationality is its added value
T5 MASTER provides a rational and complete work station, that can be further customized, according to specific needs or usage habits, with the multimedia system, the VDS system (Vitali Disinfection System), the pneumatic headrest or with other optionals.
T5 MASTER is the result of VITALI research and optimization and is completely made at the company's Italian production facility just outside Bologna.
Simplicity in every function and detail
Simplicity means more efficiency in the work process.
    
Operational simplicity for the dental team, thanks to the vast operating field and to the ideal location of instruments, which encourages interaction and synchrony. The dentist can also rely on the special extension of instrument tubes (over 80 cm), while the nurse can get close, with much more freedom, to the chair thanks to the 90° rotation of the cuspidor.
   
Simplicity of function management through intuitive controls, with membrane keys that offer perfect sensitivity and immediate response.
   
Simplicity of sanitizing with many removable and autoclavable elements both on the instrument table and in the cuspidor.
  
   
Simplicity and freedom of configuration according to your operational needs, proposing avant-garde instruments for evolved performances, including multimedia innovative systems, with the possibility of adding new accessories at any time.
   
Simplicity in safety thanks to the VDS accessory device for a totally automated disinfection process.

Product Details

Data sheet

Company

Vitali

Country

Italy

Weight

-

Certificate

ISO | CE

بیشتر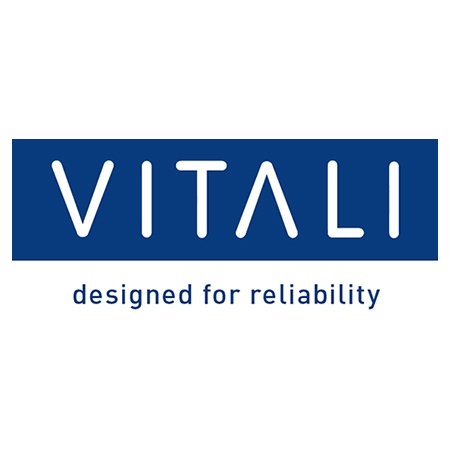 Data sheet
Company

Vitali

Country

Italy

Weight

-

Certificate

ISO | CE

Connection

6-hole connection

Lighting

Halogen with adjustable intensity

Power

230V

Operating Time

-

Absorbed Electric Power

-

Material

Aluminium

Wide range of colors

Yes - Optional

Stool

Yes

Dentist table

With whip arms

Number of hoses

4

Table for left hand

optional

Fiberoptic system

Yes

Monitor

Optional

Intra-Oral camera

Optional

Light-curing

Optional

Water boiler

Yes

Assistant Air-Water Syringe

Yes

Nurse table

Yes

Dentist Control Panel

Button

Assistant Control Panel

Yes

Chair unit

Full Automatic

Chair foot controller

Yes

Headrest

Multi position

Spittoon

Ceramic

Piezo scaler

Optional
Reviews
No customer reviews for the moment.