Memo Part VSD Occluder - Lepu Medical Technology (Beijing) Co.
Lepu Medical - MemoPart VSD Occluder
Out-of-Stock
Features:
VSD Occluder 
China Made
Nitinol Wire
Optimal heart treatment on the Nitinol wire provides the occluder superior elasticity for easier delivery.
Rigidity
Modified rigidity and flexibility for different types of occluders are designed to meet different clinical requirements.

Structure
Special braided mesh structure provides excellent radial strength that ensures ideal configuration after deployment, allows of full cross-sectional orifice coverage, and minimizes operation risk.
Shape and Size
Complete range of occlude specifications can satisfy the most types and sizes of defects.
Heat–Treated Nitinol Wire
Special oxidization process makes the compact and uniform surface of TiO2 on the nitinol wire. The oxidation surface effectively prevents from the release of nickel ion to guarantees great biocompatibility and long-term safety.

Multiple Sizes of Waist Length for VSD Occluder
Instead of only one size of waist length, MemoPartTM VSD occluders provide 3-4 sizes of waist length to minimize the negative impact of compression force, which could highly reduce the risk of third degree atrioventricular block.
Transcatheter Closure of pmVSD by Using the Modified MemoPart Occluder 
This multicenter study assessed the efficacy and safety of transcatheter closure of perimembranous VSD using MemoPart VSD occluders. In 5 different centers in China, 412 patients with VSD, including 202 men and 210 women. The immediate success rate was 96.6%. During the follow-up period of 2 years, there was no evidence of residual shunt and device-related complications.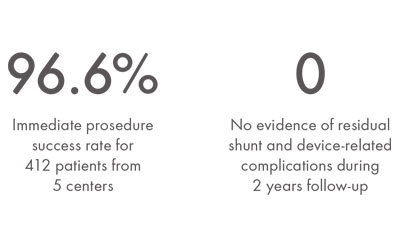 Leave a comment about this product