Reduced price!
View larger
Saremco - ELS Extra Composite
محتوی بسته: یک عدد سرنگ 4 گرمی
 * ضمانت تاریخ مصرف
New
Warning: Last items in stock!
Availability date:
Buying this product you will collect
0 points
with our loyalty program.
ELS Extra low shrinkage Composite
Light-curing microhybrid composite free from TEGDMA and HEMA and with very low shrinkage stress. For all Class 1 to V restorations in the anterior and posterior regions.
Features:
- Free from HEMA and TEGDEMA
- Low shrinkage stress and minimum risk of micro cracks
- فاقد مونومرهای آزاد سمی HEMA و TEGDEMA
- منحصر بفرد ترین عملیات مقاومت در برابر نور بیش از هفت دقیقه در 11000 لوکس
- عدم چسبندگی به قلم
- حداقل جذب آب 
- حداقل انحلال در آب
- پایداری رنگ در طولانی مدت
- پالیش پذیری آسان و درخشش بسیار عالی
- رادیواپک
- عدم ایجاد حساسیت پس از درمان
- شکل پذیری آسان
- دارای نمونه رنگ های ویتا و رنگ های بلیچ سفید برفی (SW-, SW, SW+)
- Resistance to the operating light for up to 7 minutes at 11000 lux
- Minimum water absorption and water solubility
- Easily sculpted and positionally stable even at 50° Celsius
- Long-term shade stability /radiopaque
- Vital colors, ideal for aesthetic dentistry (based on VITA shades)
- Easily polished to an excellent high lustre
- Does not adhere to the instrument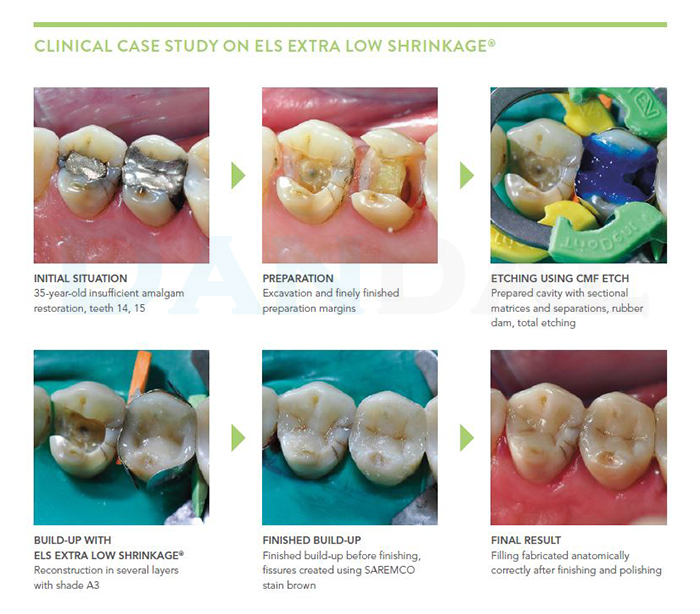 | | |
| --- | --- |
| Company | Saremco |
| Country | Switzerland |
| Application | Direct Restorative |
| Type | Universal |
| Material | Microhybrid |
| Polymerization | Light-Cure |
NO registration required!
If the question you have has not yet been answered here, use the form below to ask something about this addon.