+982175203000
3Disc - FireCR Intraoral phosphor screen scanner - Dandal
FireCR dental Reader
The full-featured FireCR Dental Reader from 3DISC Imaging rapidly and affordably delivers high-quality digital images for busy dental practices, optimizing chairside time with patients.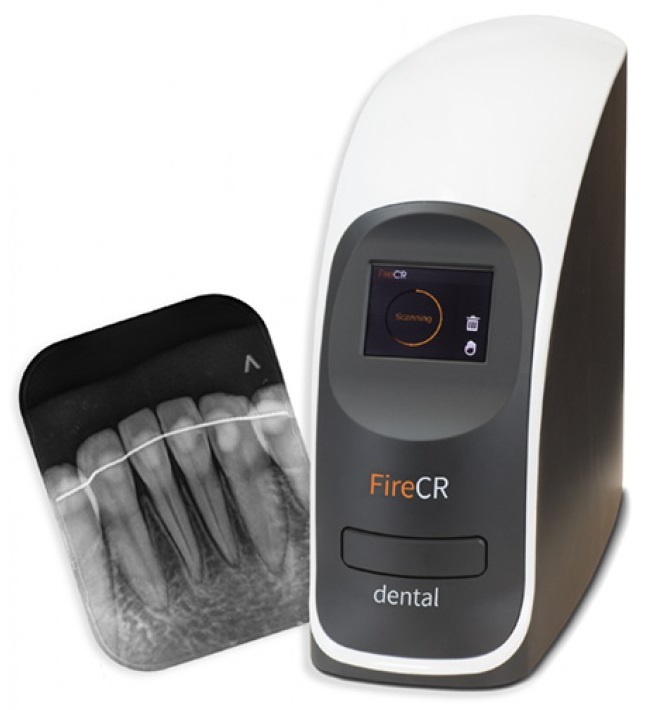 Optimize Your Workflow
The FireCR Dental Reader is a compact and affordable Computed Radiography PSP system for dental professionals. It is designed to provide fast, high-quality reading of reusable dental imaging plates, enabling a better patient care. With its small footprint, the reader fits seamlessly into even the most space-challenged dental offices and exam rooms.
From Box to First Image in 15 Minutes
Magnetic Feeding Tray Protects Image Plates
Supports Full Size 4c Image Plate –No Software Stitching
Get Unlimited Software Upgrades
Built-in Memory of the Last 100 Images
Full Size 4c Imaging Plate
A set of the most frequently used photostimulable phosphor (PSP) imaging plates is included with the unit. A full range of imaging plate sizes 0, 1, 2, 3 and a full size 4c is available. The full size 4c imaging plate enables dentists to capture more teeth and roots on the same image, without having to stitch several smaller images together —an inconvenient and inefficient process.
Magnetic Feeding Tray
The automated "Push and Go" feeding tray is simple and quick to operate. The FireCR Dental's magnetized feeding tray ensures a perfect position of the magnetic IPs. The image plate does not move during the read-out process and remains completely flat on the horizontal tray. The IP is neither moved nor bent and nothing touches or scratches the IP. This ensures a longer IP life cycle. When not in use, the FireCR Dental's feeding tray is closed, which prevents dust entering the machine.
Compact and Light Design
With its small footprint—the size of a shoebox— and affordable price the FireCR Dental can be placed in each exam room, even the most space-challenged ones, which allows faster diagnosis and streamlined patient care. The FireCR Dental is only 12 cm wide and only weighs 5,5 kg. The small size saves space in the clinic and the low weight makes it easy to move when cleaning the work space.
Unmatched Flexibility to Help Your Practice Grow
In this increasingly competitive environment, show patients that your practice offers the latest in digital imaging technology for improved patient results. Whether you're looking for a central reader that can distribute images throughout your facility, or an affordable exam-room based solution, the next-generation FireCR Dental Reader is the natural choice for practices looking for a full-featured system that delivers high-quality digital images—along with the flexibility that helps them grow.

Product Details

Data sheet

Company

3Disc

Country

South Korea

Weight

5.5Kg

Power

AC100~240V

بیشتر
Reviews
No customer reviews for the moment.
Related articles on blog
No related article on blog