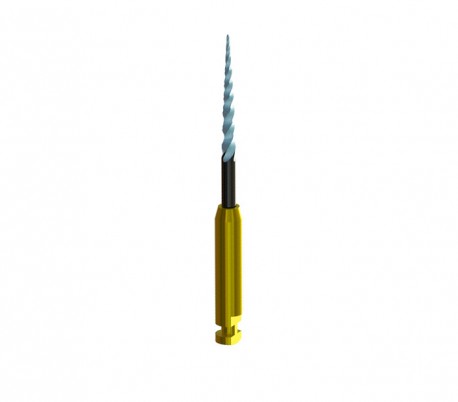 View larger
Neolix - C1 Neoniti Rotary File One size
New
This product is no longer in stock
Warning: Last items in stock!
Availability date:
لطفا در صورت نیاز به اطلاع رسانی جهت موجود شدن این کالا، ابتدا وارد حساب کاربری شوید سپس در همین صفحه گزینه
"اطلاع بده"
را انتخاب نمایید
Buying this product you will collect
0 points
with our loyalty program.
C1 Neoniti
T=0.12 - L=15mm - #25
Open and Shaping of the coronal third of the root canal



Endodontic treatment
· 1st step
Identification and catheterization of canals by using a K file size # 08, 10
or 15 - Use a chelating agent if needed.
· 2nd step
Neoniti C1 is introduced into the canal at a max. depth of 5mm (i.e.
half length of the working portion)
The work is performed using a wall circumferential brushing motion
onto the opposite curvature to reduce coronary wall curvatures,
relocate the canal entrances and ease the progress of the following
instruments.

Use Neoniti C1 in continuous rotation with a constant speed of 300-500rpm and a torque limit of 1.5Ncm.

Work under thorough irrigation regularly renewed.
· 3rd step
Measure as soon as possible the working length with an apex locator
and/or a periapical radiograph.
· 4th step
- Neoniti A1 is carefully introduced into the root canal by alternating 2-3 circumferential wall brushing actions and 2-3 pecking motions (axially back and forth);
- Rinse, check the permeability with a K file, rinse;
- Clean the Neoniti A1 flutes with a sodium hypochlorite swab;
- Reroute A1 as done before: if the WL can be achieved, only use a pecking motion in the last 3-4 apical mm;
- Rinse and check the permeability;
- Clean Neoniti A1;
- Repeat the above sequence if the WL is not reached.

Use Neoniti A1 in continuous rotation with a constant speed of 300-500rpm and a torque limit of 1.5Ncm.
Endodontic retreatment
Neoniti system can also be used for endodontic retreatment: insert Neoniti C1 into the filling material to remove it out of the canal and continue the action with Neoniti A1.
| | |
| --- | --- |
| Company | Neolix |
| Country | France |
| File Number | 25 |
| Number Of Files In Pakage | 5 |
| Taper | 0.12 |
| Length | 15 |
| Torque range | 1.5Ncm |
| Type | Flaring |
| Speed of Rotation | 300-500rpm |
NO registration required!
If the question you have has not yet been answered here, use the form below to ask something about this addon.