+982175203000
Micro Mega - One Shape File
One Shape
   #25 - T=6% - L=25mm (x5)

One Shape is a single NiTi file for root canal shaping. It is effective for canals with high curve and its safe tip helps easy entry to the apical and also prevents the closing of the canal which is a fracture factor.
One Shape has 3 different cross- section zones:
The first zone presents a variable 3-cutting-edge design. The second (transition zone) has a cross-section that progressively changes from 3 to 2 cutting edges. The last (coronal) is provided with 2 cutting edges.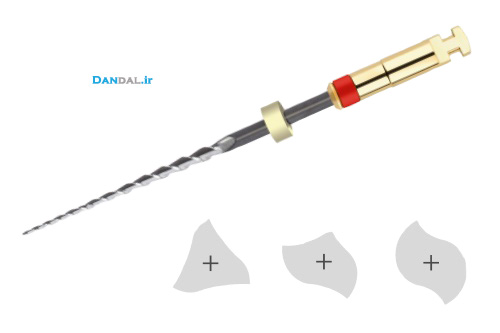 One Shape advantages:
Simple use ---> One System File
Time saving ---> Approximately 60% faster than a conventional treatment
Flexibility for the practitioner ---> Great ability to negotiate curves.
Efficiency
Safety ---> Single use and being sterile.
Controls risk of infection due to sterile blister packaging
Innovation ---> Asymmetrical cross-section with longer pitch
Ergonomic ---> Maximum comfort, safety and Efficiency
   
Operating protocol of One Shape:
1. Access cavity preparation:
Take a preoperative radiograph to assess canal anatomy and establish Estimated Working Length (EWL)
Establish straight-line access preparation to expose canal orifices.
Remove coronal constrictions with ENDOFLARE (or use your current flaring technique). Canal penetration of ENDOFLARE is limited to 3 mm below the pulp chamber floor.
2. Establishing the glide path:
Scout each root canal with small diameter hand files which provide information about the root canal anatomy complementary to that obtained by the preoperative X-rays. Prepare the glide path using #10 Stainless Steel K-type hand file (for example MMC 10)
**If the #10 K file easily reaches the EWL, and if it is possible to take a #15 K file down to this EWL:
If canal constrictions prevent the #10 K file from easily reaching the EWL: complete glide path preparation using G-Files™, NiTi files for glide path development in continuous rotation. Use G1 to EWL followed by G2 to EWL:
Use the #15 K file to determine Working Length (WL).
3. Shaping the root canal:
Irrigate thoroughly with sodium hypochlorite. A chelating gel (MM-EDTA Cream) can also be used during the root canal shaping.
Rotation speed: 350 – 450 tr/min – Maxi torque: 2.5 N.cm
Technique: in and out movement without pressure.
Remove and clean the instrument and irrigate the canal when apical resistance or a slight apical pull is encountered.
This instrument is for single use only and has been designed for the treatment of only one tooth.
Check the condition of the instrument after the treatment of each canal and dispose of all instruments which show signs of unwinding, wear or premature fatigue. Multiple usage will increase the risk of separation.
Referenece: Micro-Mega.Com
Product Details

Data sheet

Company

Micro Mega

Country

France

File Number

25

Number Of Files In Pakage

5

بیشتر
Customers who bought this product also bought:
Related articles on blog
No related article on blog